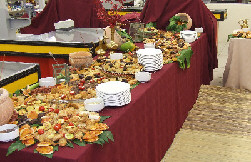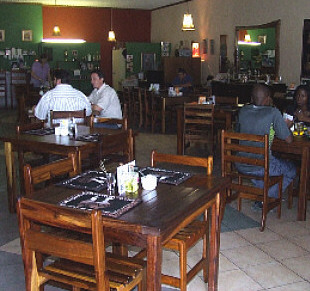 And Catering
Elda Grobler: +264 81 127 8632
baobabbistro@gmail.com
Katima Mulilo
---
Situated in the Main Street of Katima Mulilo ( Theo Ben Gurirab st) just left of the Caprivi Pharmacy, Baobab Bistro's cool and tranquil atmosphere will ensure you relaxing before you have the best meal in the Caprivi! Be it lunch, midmorning snacks and cakes or lunch, Baobab bistro will see you leaving completely satisfied.
INTERNET AVAILABLE.

Meals:
Choose your dish of preference from our quite extensive menu.
On certain Fridays we have special evenings, eg. A Pasta Evening, where you choose your own pasta dishes, a Hamburger or Pizza evening where you pile on your own topping to your liking, and then have it prepared to perfection!
Our cakes and desserts are out of this world.
Baobab Bistro is a fully licensed restaurant so you have the benefit of choosing alcoholic beverages with your meal should you prefer, or choose from the various soft drinks, juices or the ultimate milkshake!

Catering:
Baobab Bistro caters for your every need. Be it a Private Function, an inauguration or sports events, weddings etc, we will work out a menu suitable for your specific guests and their need. Baobab Bistro did catering for the inauguration of the Zambezi Vocational Centre, for the Minister of Education, Hon. Nangolo Mbumba and the heads of Lux Development, the inauguration of the Katima Open Market where the festivities were led by 2007 Minister of Trade and Industry, Immanuel Ngatjizeko and Lux Development CEO.

Other huge catering events include:
All meals and the Gala Dinner for the teams that competed in the Namibia vs South African Proteas' Art Lure Angling and International
Zambezi Classic (2011) Competitions Catering for the opening of Shoprite Katima, the Formal ZVTC Inauguration, Nampower Conventions, The Katima Open Market inauguration and many many more! Photos are from mentioned events.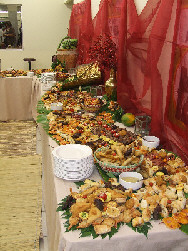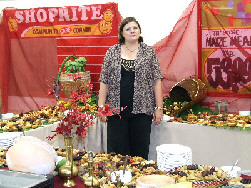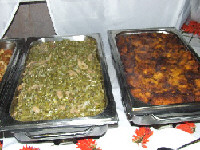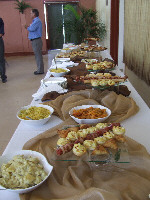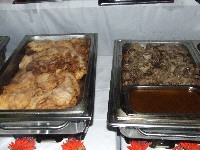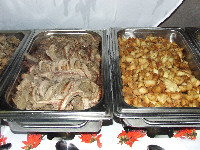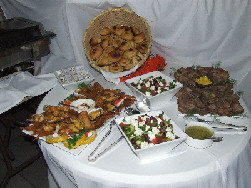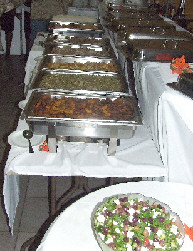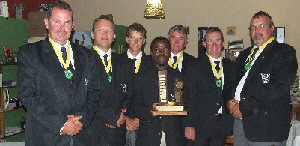 ---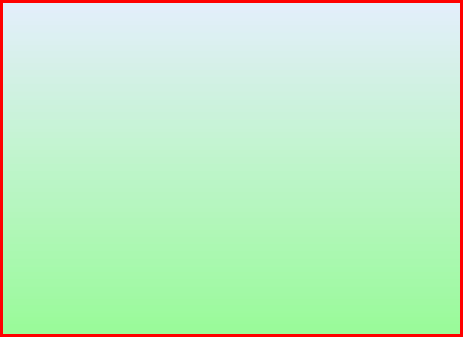 Enjoy a hearty meal at Baobab Bistro!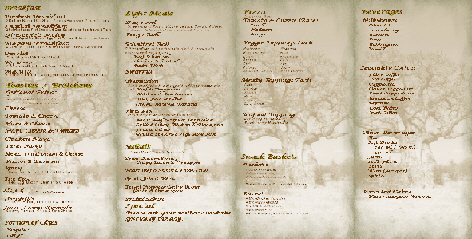 Click below to View our Menu


Specials:

Tuna Pasta Salad N$ 45.00
Pasta, carrots, peas and tuna in a light dressing.
Meatball Sub N$ 50.00
A roll filled with savoury mince balls, Italian tomato sauce and Mozzerella cheeze.
Beef, Beetroot & Potato Salad N$ 60.00
with a balsamic vinegar dressing
Rich Chocolate Sauce on N$ 40.00 Vanilla Ice Cream

Nutty Couscous Salad N$ 40.00
A salad of couscous, almonds, onions, chick peas,tomatoes & feta.
The Double Double Burger N$ 60.00
A grilled chicken burger topped wth bacon, feta, salami & mozzerella
Namibia Art Lure team with their trophy, Held by the Namibian Minister of Sport.